Week in Review: R.I.P., Liz; Get Lost,
Chris; Welcome Back, Casey; Hello, Kirstie!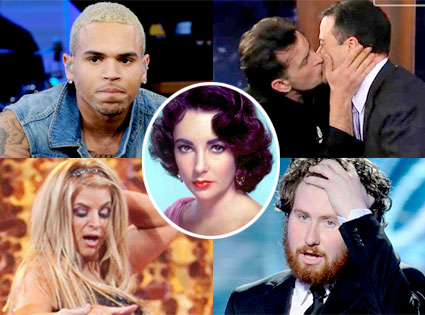 The E Title says it all, just as the picture, as far as it goes for entertainment this week around our household! Oh, and Army Wives- can't forget the big cliffhanger there that has left me and all of my Girlz on Twitter in a tizzy. I'm afraid one box of tissues just may not be the same after tomorrow nights episode and the friendships that have formed across twitterverse may be forever entwined- counseling may be needed!
The kid's are back from Nana and Papa's. Jason and I went and picked them up on Sunday.
Braden received a firsthand education on cattle life. He now knows a little bit about birthing calves and that there isn't exactly a magic door that opens and that the belly button isn't the keyhole-yeah long story.
Kaybrie learned to cuss- she told my niece that she was going to kick her a$$ out of the pickup- poor preacher's daughter, I am so sorry Mika. She also came home talking about being a 'whiny butt'. Apparently her Nana took care of these matters and no further correction is needed. We will see.
School this week. Well, the teachers in public school wasted no time getting into the swing of things. Who exactly is homework for anyway? Students or their Parents? Decimals, Probability, Fractions, Social Studies, English. My problem is, I can't teach it down to a 4th grade level. I can get the answer. I think school is tough on parent/child relationships and ours is really being challenged. Please pray for us.
Guess what? Kaybrie will be playing T-Ball and wanna know what else, I'm her Coach. Yep, Coach Crow. Geesh, what do I get myself into. Just how many hats can I wear? I am so excited!! Kaybrie is too! She said and did a lot of cute things this week. She wanted to know one morning on the way to school- "Moma, when is it warm like a lamb?" And you think they don't listen to the things we say...and come up w their own analogies of the weather! In chapel on Wednesday at school her friend fell asleep, she was very amused and kept trying to pull her friends eyes open. Yes, she is ornery.
Braden and I went on a date last night. The Applebees guy looked at me weird when I told him we were on a date. Really? Did he think I was robbing the cradle that much? He must not be close to his Mom, poor boy. After eating, we went and saw Diary of a Wimpy Kid: Rodrick Rules. It was much needed Mother/Son time. Jason and Kaybrie tracked down a puzzle at Grandma's and worked it together, they needed that time together as well.
I know, I didn't talk about Jason and I much- we're kind of boring that way, LOL! We worked, ate, slept...the normal. But of course we participated in all of the above activities, that is just a given.
And that's this week's Week in Review from Our Nest